By Les Christie, staff writerFebruary 10, 2011: 2:49 PM ET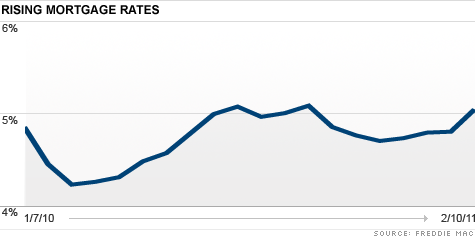 NEW YORK (CNNMoney) — It's time to say hello to 5% loans.
The national average interest for a 30-year, fixed-rate mortgage surpassed 5% for the first time since May 2010, according to Freddie Mac's Primary Mortgage Market Survey.
During the week ending Feb. 11, rates averaged 5.05%. That factors in an average of 0.8 points in fees that the average borrower paid to lower his or her rate.
And rates quoted by Bankrate.com — which look at loans not backed by mortgage giants Fannie Mae or Freddie Mac — spiked to nearly 5.25% in the past week. (This index has been popping under and over 5% since early December.)
"That's a pretty appreciable increase and the pressure is upward at the moment," said Keith Gumbinger of HSH Associates, whose own barometer of mortgage rates has been rising quickly as well.
These rising rates will most impact those trying to refinance, rather than those trying to buy. Homebuyers tend to focus on other aspects of the purchase, according to Gumbinger, like whether they like the home and, especially, home prices.
"The interest rate is not the key issue for buyers," he said. "Increases do not produce a huge deterrent."
For one thing, prices tend to decline a bit in response to higher rates, which offsets some of the increase. For another, most buyers could absorb the additional $29 per month that the recent interest rate jump would produce.
The rising rates can give a temporary boost to home sales because waffling buyers to get off the fence thinking it may cost them more to delay.
This week's rate bump comes in a time of uncertainty surrounding the future of mortgage lending. Washington is mulling over the future of two government-backed mortgage giants. The two companies, plus the FHA, support the vast bulk of all mortgage lending.
"If you're thinking of buying a house, you're probably better off buying in this reasonably certain lending environment than in the rather uncertain environment that's coming," said Gumbinger.
Original article at http://money.cnn.com/2011/02/10/real_estate/mortgages_break_barrier/index.htm