'Tis the season. Not just for holiday cheer and giving, but also for cooking fires at holiday parties, exposed candles, fireplace sparks, space heaters near flammable drapes, and Christmas lights overloading extension cords.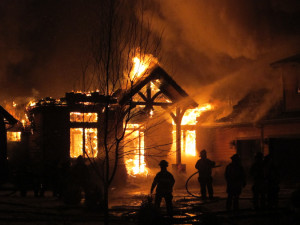 There were about 98,000 reported apartment fires in 2013, which killed at least 325 people that year and injured about 3,900 more, according to data from the National Fire Prevention Association.
Heaters and fireplaces are responsible for about 27 percent of residential fires. That means that winter is a critical time when it comes to fire prevention outreach and education. Peak heating fire season runs from December through February.
The National Fire Prevention Association estimates that about 900 fires every year are attributable specifically to Christmas decorations, menorahs and other holiday items catching fire.
So what can your homeowner or condo association can do to neutralize the fire threat before it occurs? Here are some tips:
Get a Courtesy Inspection
Contact your local fire department or fire marshal. They will generally come to your property for free or for a minimal fee and walk you through common areas, facilities, storage areas and other critical locations to help you spot potential hazards. This could include electrical and wiring problems, hazardous material storage, and landscaping or trash management problems that might contribute to a spreading fire. They will also spot access problems that could prevent evacuation or keep firefighters from reaching a fire on the property.
Generally, you won't get fined for code violations or other issues discovered during a courtesy inspection that you request, provided you correct them within a reasonable time.
Send and Post Newsletters
You can create newsletters for your residents and mail them, slip them under the door, or post them on bulletin boards in common areas. The National Fire Prevention Association also has a number of fliers and posters available for download. Topics include:
Cooking safety
Candle safety
Heating
Smoking
Electrical safety
Dryers
Microwaves
Wood and pellet stoves
Fireworks
Grilling and cookouts
Put fire prevention in the hands of a professional – start working with a professional association manager today >>
Have a Community Meeting
As you can see from the list above, there is no shortage of topics you could cover at a community fire-awareness workshop. Be prepared to buy some pizzas for residents or hold a drawing – you want to maximize attendance at an event like this. If your turnout is good, your community will be more aware of fire safety issues, and more likely to protect your property. Your property management and janitorial staff can't do everything by themselves, and they can't do much about hazards in the dwellings themselves. You need your residents to do that.
Larger properties may be able to get a presence from their local fire department as well. You could even make a kid-friendly event out of it with a little imagination.
Other Fire Prevention Tips
Service furnaces and HVAC units now.
Take a good look at your laundry rooms. Lint buildup in hoses is a frequent potential hazard. Check for clothes piling up behind the dryers. And make sure your wiring can handle the appliances.
Get residents to tell management any time a breaker in a property trips. Even if your community isn't a condo or high-rise, if all the single-family homes are similar, they probably have similar wiring. Tripped breakers can alert others to potential wiring problems.
Have your fire extinguishers inspected and charged. Put this task on your regular maintenance schedule.
Ensure electric appliances are nowhere near pools and Jacuzzi areas.
Insist renters carry renters insurance. A simple kitchen fire could cost more than a renter is able to cover out of his or her own financial resources.
Clear parking lots, driveways and access areas of dumpsters, debris and parked cars. This ensures that fire trucks can access the back and sides of each building as necessary. Be vigilant in enforcing parking rules to facilitate this.
Conduct drills. At a minimum, every staffer and community leader should be able to brief the fire plan, which includes demonstrating familiarity with electrical, water and gas shut-off points; elevator shut-off points; and fire hydrant locations in case they have to guide firefighters to them.
Inspect all smoke detectors, sprinklers and carbon monoxide monitors. Be cognizant of access notification requirements before you enter dwellings.
Tell residents to make sure their Christmas trees are fresh and green. Dry trees are much more flammable than green ones. Also, keep the trees away from radiators and space heaters. Set up a tree pickup service after the holidays. And for Hanukkah, keep drapes tied well away from any window menorahs.