QUESTION: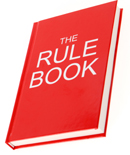 Our board sent a notice of rule change without giving the text of the change. They simply stated the parking rules were reworded. It is my understanding the board must provide every homeowner with the exact wording of the new rule.

ANSWER: Your understanding is correct; the board must provide the exact wording.
CC&Rs. Although you asked about rule changes, let's start with CC&Rs. Unlike Congress where they have to pass it first to find out what's in it, common sense dictates that members receive and read what they vote on. Under the Davis-Stirling Act, the text of any proposed CC&R amendment must be included with the ballot so people can see what they're voting for. (Civ. Code §5115(e).)
Rules. When it comes to rule changes, the Davis-Stirling Act requires the text of any proposed change be distributed to the membership at least 30 days prior to their adoption by the board. (Civ. Code §4360(a).) "Text of the proposed change" means exact wording, not a general statement that changes were made.

Possible Exception. In addition to the exception for emergencies
(Civ. Code §4360(a)), if the board is doing nothing more than correcting grammar or renumbering provisions, I don't believe the 30-day notice period is triggered since the rules are not being changed. Even so, the board must distribute a copy of the "cleaned-up" set along with an explanation of what was done and that no changes were made to the rules.
TIMOTHY M. HOWETT
JOINS ADAMS KESSLER PLC

I am pleased to announce that attorney Tim Howett has joined Adams Kessler PLC. Tim is "AV" Rated by Martindale-Hubbell, the preeminent national peer review lawyer rating service. He is also an accomplished trial lawyer and a chartered member of the "Million Dollar Advocates" Forum.
Experience. In addition to 20 years of experience serving as corporate counsel to homeowner associations, Tim has wide experience in real property and construction law issues, including real estate development and HOA formation, construction contract negotiation and disputes, mechanic's liens, public works litigation, commercial lease negotiation and disputes, Coastal Act issues, view protection, earthquake and soil subsidence litigation, and insurance claim issues.
Professional Activities. Additionally, Tim is a speaker and author on corporate, construction and community association law and served as guest lecturer in Design and Construction Law at Woodbury University's School of Architecture in Burbank, California. Tim currently serves as a member of CAI National's Amicus Committee reviewing legal briefs on issues of importance to community associations for submission as amicus curiae ("friend of the court") to appellate courts nationwide.
Education. Tim earned his BA in Political Science and Philosophy from Claremont McKenna College in Claremont, California. He also studied comparative government and political philosophy at the London School of Economics and interned in the House of Commons in London, England. Mr. Howett earned his J.D. from Loyola Law School in Los Angeles, California and is admitted to practice in all California courts, all United States District Courts in California, and the Federal Ninth Circuit Court of Appeals.
To send Tim a note or request legal services, you can contact him at thowett@adamskessler.com.
FEEDBACK ON 10TH ANNIVERSARY
OF DAVIS-STIRLING.COM

Thank you to everyone who sent notes of congratulation. There were far too many to print them all. Following is a sampling:
Anniversary #1.Congratulations! An amazing site, should be mandatory for every board member! Couldn't hurt any condo owner to use, either. As a board member myself, I want to express my gratitude for your work and most of all, you, for your gracious generosity to a community you serve. -Anita H.
Anniversary #2. Happy 10th Anniversary! I have found your weekly newsletters as well as the website to be a wonderful resource for questions and issues that I have had. Your clear and precise way of explaining complicated laws and refraining from using complicated "legalese" to explain pertinent matters is in a class by itself! You and your staff should be commended for a job well done! -Ellen M.
Anniversary #3. Adrian–Applause, applause, applause. Your website rises far above the nominal purpose of self-promotion. It is a substantial benefit to the world of community associations. When I think of homeowner's law I think of Adams Kessler. Congratulations on 10 great years. -Bob M.
Anniversary #4. CONGRATULATIONS, and HAPPY DECADE! I for one, and I know I am not alone, appreciate very much what you do. You have simplified my life and saved my ass on many an occasion!! -Fred G.
Anniversary #5. Congratulations and thanks for all your hard work. Just an HOA worker who appreciates the information you provide. -Hal G.
Anniversary #6. Congratulations on 10 years. Here at Oak Shores the Manager and all the Board Members read your newsletter regularly as a wonderful reference. I save every copy for future reference. The humor is always appreciated as well. We are also so happy to have you and the firm representing us as needed. Thanks for your service. -Randy F.
Anniversary #7. My congratulations to you and the entire staff. You all are great to work with. You have done a great job and provided us all with great insight and information. There isn't a day that I do not visit the site and a minimum at least once a day and many days several times. -Wayne B.

Anniversary #8. Congratulations on your tenth year publishing the Davis-Stirling.com newsletter. As the founder/publisher/designer/editor/reporter, the plaudits you deserve to receive are without number. Your personal labor of love continually shows in the website and proves your devotion to the well-being of the entire HOA community spectrum. I'm delighted by the success you have achieved and the esteem you so deservedly merit. -Bond S.


"Legal solutions through knowledge, insight and experience." We are friendly lawyers; you can contact us at (800) 464-2817 or info@adamskessler.com.