QUESTION: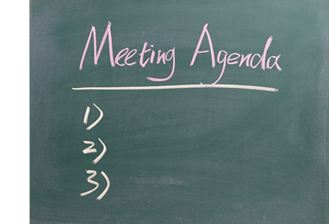 Section 4930 of the Civil Code provides for an agenda to be included with notices but it does not provide a definition of agenda or what the bare bones requirements for one are. I hope your firm will be able to expound an answer.
ANSWER: There are two statutes that refer to agendas:
Notice of a board meeting shall contain the agenda for the meeting. (Civ. Code §4920(d).)

[T]he board may not discuss or take action on any item at a nonemergency meeting unless the item was placed on the agenda included in the notice that was distributed…" (Civ. Code §4930(a).)
Legislators often leave a lot unsaid when they enact laws. They either assume we know what they are talking about or they misjudged things. If nobody can agree on what a statute means, the courts sometimes weigh in. In this case, I don't think we need a judge to tell us what an agenda means.
Definition. Black's Law Dictionary defines "agenda" as "items of business or discussion to be brought up at a meeting." I checked Robert's Rules of Order but didn't find anything useful. I then checked the Complete Idiot's Guide to Parliamentary Procedure and found the following:
If you really want to manage your meeting, you need an agenda. With an agenda, the specific items that are expected to come up at a meeting are placed into the order of business.
How detailed should an open meeting agenda be? It needs to contain enough information so members can easily understand what will be discussed at the board meeting.
Maintenance Issues. For example, if the board intends to discuss installation of a new landscape sprinkler system, reroofing a building, and repainting the clubhouse, a generic agenda item called "Maintenance" is not enough. No one reading the posted agenda will have any idea what that means. The agenda should list each item of business. That way, members can decide if they want to attend and give their opinions during open forum. See sample agenda for open meetings.
Executive Session. Notice of executive session meetings must also contain an agenda. (Civ. Code §4920(d).) Because executive sessions are confidential and topics are generally noted in open meeting minutes (Civ. Code §4935(e)), agenda descriptions are more circumspect. See sample agenda for executive sessions.
RECOMMENDATION. To learn more about parliamentary procedure, I don't recommend buying the unabridged Robert's Rules of Order. All you need is a simplified version that covers the basics. Amazon.com has a variety of materials you can purchase.
RENTAL
AGREEMENTS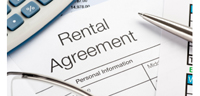 QUESTION: Our CC&Rs require that any owner who rents their unit have a signed rental agreement; that the renters provide contact information; that the lease be no less than 12 months; that the renters sign and acknowledge the rules, etc. Our property manager did not request a lease agreement from new renters because they were family members of the owner. If they admit to paying rent to their parents, are they not renters?
ANSWER: If they pay rent, they're renters. And yes, they need to comply with your rental policies. BTW, it sounds like you have a good set of policies.
SEN. LARRY STIRLING
HONORED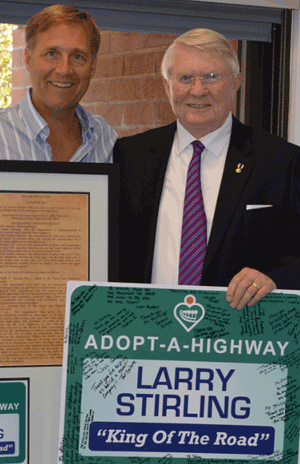 Most people know that Senator Stirling authored the Davis-Stirling Act. Few know that he is also the father of the highly successful Adopt-A-Highway program.
Twenty-five years ago, Senator Stirling authored and then championed a bill to address the problem of highway litter. His concept was simple–authorize a public/private partnership to allow individuals, organizations, and businesses to help maintain sections of California's highways.
To date, more than 120,000 Californians have cleaned and enhanced over 15,000 miles of roadside by removing litter, planting trees and wildflowers, removing graffiti, and controlling vegetation.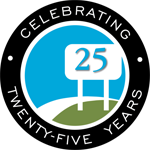 In a 25th Anniversary Celebration of the Adopt-A-Highway program, Senator Stirling was honored for his work and presented with a framed copy of the original bill he authored.
We should all thank Senator Stirling for fathering a concept that has enhanced our highways at no cost to taxpayers. His legislation is so effective, it has been adopted by 21 other states across the nation. Congratulations Senator Stirling!
HIRING FOR OUR
NORTHERN CALIFORNIA OFFICE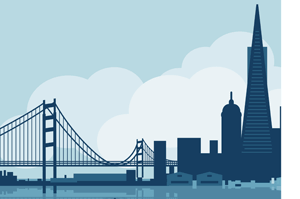 We are looking for an attorney for our Northern California office to service clients in San Francisco and the surrounding region.
We seek an attorney with at least 5 years experience advising HOA boards.
Please contact Adrian Adams at 800-464-2817 or by email.
We are friendly lawyers. Boards and managers can reach us at (800) 464-2817 or info@AdamsStirling.com.