Floods and water damage can be financially devastating for landlords. But insuring against flooding can be tricky. Flood insurance is usually only available via the National Flood Insurance Program, and there are a number of exclusions to this coverage.
These exclusions include the following:
Damage caused by moisture, mildew or mold that could have been avoided by the property owner.
Currency, precious metals and valuable papers such as stock certificates.
Property and belongings outside of an insured building such as trees, plants, wells, septic systems, walks, decks, patios, fences, seawalls, hot tubs and swimming pools.
Living expenses such as temporary housing.
Financial losses caused by business interruption or loss of use of insured property.
Most self-propelled vehicles such as cars, including their parts (see Section IV.5 in your policy).
Coverage of basements and property therein is also very limited, whether your property is in a flood zone or not. The National Flood Insurance Program also provides only limited coverage in anything below the lowest elevated floor, depending on the date of construction. This includes basements, crawlspaces under elevated buildings, and enclosed areas underneath buildings elevated on full-story foundations (walkabout basements). Finally, your flood insurance won't cover any improvements you make to basements, including hardwood floors.
What, then, are the options rental property owners have for protecting themselves from other forms of water damage?
Water Leak Detection Systems Can Help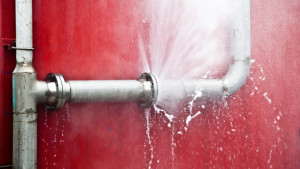 There's not much technology can do to prevent a flash flood. But if water damage is due to water leaks, burst pipes, or appliance malfunctions, there's a lot that technology can do.
Smart home technology has come a long way in the past few years – to the point where it's actually quite affordable for property owners to install effective low-voltage devices that can alert you to potential water leaks. Some devices automatically shut off the water for you to prevent further damage, and some allow you to control the shutoff valve remotely.
The latest devices actually connect to a cloud-based computer system that sends a text or alarm to your mobile device or email address. Some devices will also monitor your usage to detect and alert you to slow leaks that may not do much immediate damage but still contribute to the insidious problems of mold and wet rot.
Through sensitive use monitoring, these devices can also detect leaks such as a toilet with a leaky flapper valve, which can waste 50 gallons of water every day.
As you may expect, active systems that can turn off the water supply tend to cost more than passive systems, which simply detect leaks and alert you to the problem.
The High Cost of Water Damage
Failing to quickly detect water leaks can be extremely expensive for rental property owners. According to the Insurance Information Institute, the average home insurance claim for water damage (including damage due to freezing) between 2009 and 2013 was $7,479, not including claims from renters and condominium owners.
Water damage was also the second most common damage claim, affecting nearly two percent of all in-force homeowner policies. In 2013, water damage and freezing accounted for 26.4 percent of all claims dollars the insurance industry paid out. It's unknown how many landlords may have been uninsured, or underinsured to the point where the amount of money actually paid out was less than the damage incurred.
Maintenance emergencies – like fixing burst pipes and broken toilets – are just the worst. Start working with a professional property manager and never deal with maintenance emergencies again >>
Whole Home vs. Point of Installation
With any given device, you can choose between "whole home" and "point of installation" applications. The latter enables you to shut off water to, say, the laundry room or basement without necessarily impacting the rest of the home. A whole-home system can shut down all the water until you get a plumber on the scene.
Leak Detection System Manufacturers
Well-known manufacturers include Water Hero, Wally, FloLogic, FloodStopper, QMI, DynaQuip Controls (WaterCop), and ZIRCON.
Owners and managers of multifamily buildings may also be interested in Aqua-Stop, by Give Systems.
As with many manufacturers, you may not be able to purchase the systems directly from them. They may refer you to a local installer or vendor.
Your plumber can give you further information. Electrical contractors, home security vendors and even home theater or audio-video companies may offer similar services, since the low-voltage technologies these systems employ have a great deal of overlap with one another.
You can get devices that measure humidity changes, temperature and freezes as well as actual water leaks.
Insurance Discounts are Available
Some insurance companies will offer a discount with a leak detection system that can more than pay for itself over time. One vendor has created a list of insurance companies that provide premium discounts for water detection installations:
Chubb Insurance
Atlantic Mutual
Fireman's Fund
Allstate
BCAA
Horace Mann Insurance
Nationwide
Federated
Westland
Quincy Mutual
Kinghorn
AIG Insurance
Check with your carrier for specifics, including whether they extend to landlord policies in addition to homeowner policies.