For property managers who love working with people, but despise the paperwork process for inspection reports, Inspect and Cloud might be the solution. Inspect and Cloud is online property inspection software. Property managers can create customizable inspection reports to fit their specific needs. Inspect and Cloud has a commitment to customer service. If a customer believes something is missing from the software, Inspect and Cloud aims to resolve this issue and continues to innovate their product. We spoke to Jon Ray from Inspect and Cloud to hear more.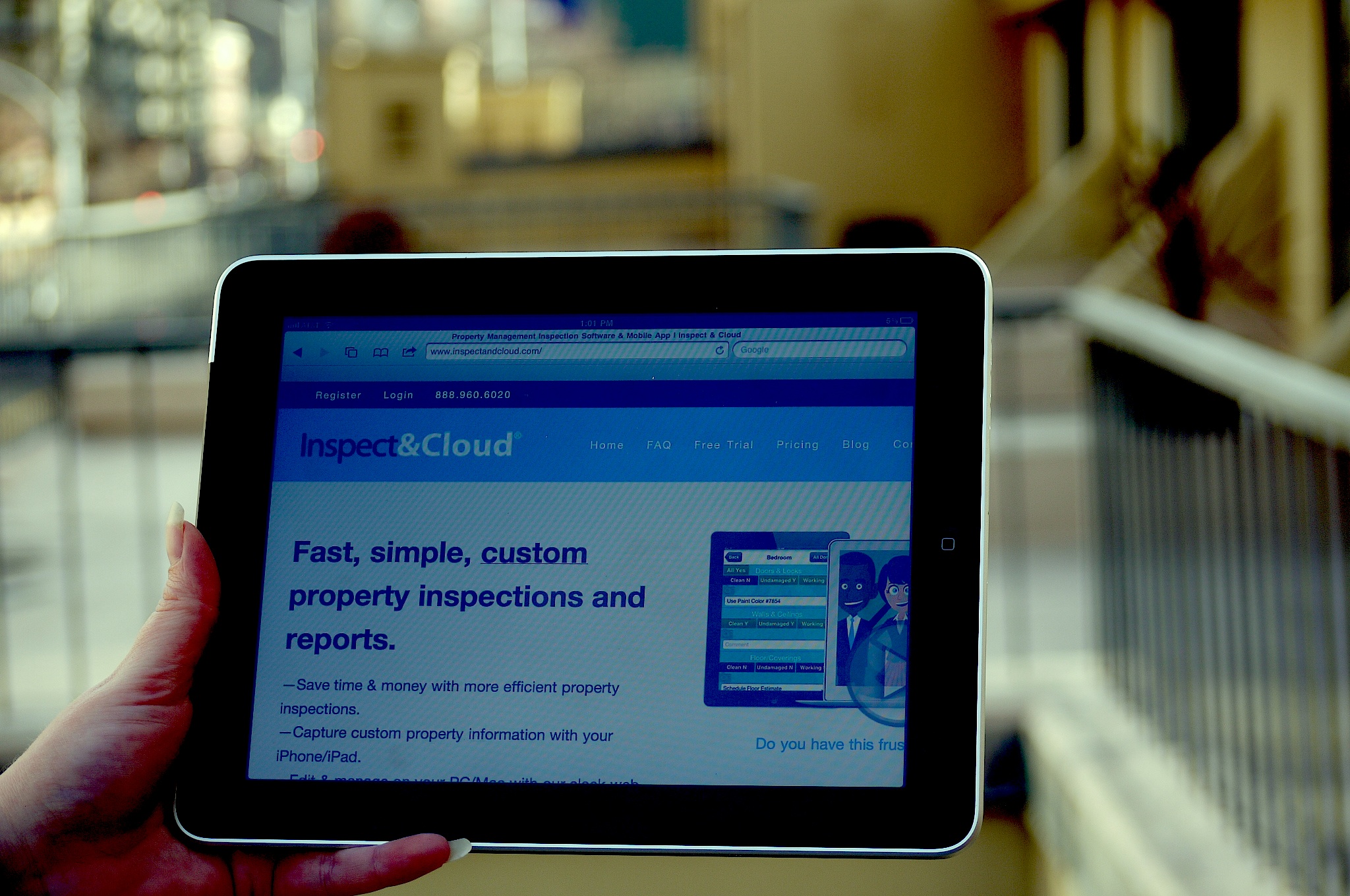 APM: Can you please describe Inspect and Cloud?
Jon: From a 30000 ft overview, you have an icon inside the app that desensitizes the property inspection process. The information collects from the field via your Iphone or Ipad. We try to take the frustration out of the property inspection process, and ensure high quality reports for each property inspected.
APM: How does Inspect and Cloud stand out from other property inspection reports?
Jon: We try to build Inspect and Cloud based on the feedback we get from the property management industry. Both my business partner and I have backgrounds in the property management. We both know it is frustrating to carry around a bag with your digital camera, clipboard, and worksheets. This began as a personal issue for us. We realized that some of the property inspection software available has a limit with what you can do. We need the functionality to be able to customize the information we collect at each type of property.
With Inspect and Cloud, we offer customized templates. Create templates for single-family homes, multi-family complexes, HOA inspections or maintenance inspections. If there is information users need to specifically collect for a property, we have a capability to build a custom template. With the web application, Inspect and Cloud allows you to design the mobile app.
APM: Do you think users can easily design their own platform? Would you consider Inspect and Cloud user friendly?
Jon: Absolutely. We try to make Inspect and Cloud as intuitive as it can be. We understand how technology can be scary for people who do not use it all the time. We have a team in our support center that trains on every aspect of the product. Users can call our support center with any questions. Inspect and Cloud is intuitive. We want our users to open it up and immediately be able to conduct an inspection without learning a new system. We also created several video tutorials to give you a step-by-step on every single feature that is available.
APM: If we talked to your top three customers, how would they describe your product?
Jon: Most customers would take a sigh of relief, especially when they recall their old process and how tedious it is. Our top customers have several inspectors out in the field with large portfolios. We designed Inspect and Cloud with membership levels. We are excited to offer the product to the small property manager who is just getting started with less than 100 doors, to the property manager with 10,000 door clients. We think Inspect and Cloud contributes to a company's growth and provides the tools to help foster growth. We have witnessed businesses grow due to the showcasing of their reports and professional designs. These inspection reports provide a competitive advantage in their prospecting kits.
APM: Do you have a favorite memorable moment with a customer?
Jon: There are several memorable moments. One that stands out to me involves a seasoned individual who has over 20 years in the property management industry. For him, the property inspection process is the most tedious part of his day. He loves talking to people, forms relationships, enjoys finding new prospects, but the property inspection process is something he could not get into. He thinks of it as a necessary evil. He was initially hesitant to use the software because he was not familiar with how to use an Iphone. Originally, we spoke with him a few times over a period of a couple of weeks, to explain the value of Inspect and Cloud. We knew he simply needed to try to the product, and once he did he would see how easy it is to use. He called us back after he tried it and said " Its so easy! I filled out my own custom inspection report. We already did one inspection!". We thrive on customer enthusiasm like his.
APM: We could see how that would be incredibly rewarding. Is there anything else you would like your users to know?
Jon: Yes, we appreciate user feedback. We try to schedule at least a phone call and hopefully a full product demo with every single person that signs up for the product. We designed our customer support system, to provide a level of customer service that builds relationships. We know our software and believe it is only as good as the feedback we receive. We continue to innovate. We put together a quasi-focus group of our users to innovate and add new features. We ask our users to let us know if anything does not seem intuitive, if something frustrates them, or if there is something they wish the product would do. If there is something missing please let us know immediately. Inspect and Cloud is a start-up company with our developers here in the US. We can quickly pivot if needed, and this is our competitive advantage.
Our users know they can make suggestions. If we think it could work, we go to our property managers focus pool, and see if we can implement it. We feel we add value because we spoke with enough property managers to solve everyday inspection issues. We want property managers to focus on growing their business. We do not want them to deal with the day-to-day tedium of doing property inspections.
To Sum It Up!
Inspect and Cloud is a property management software that aims to incorporate each aspect of property inspections. However, if users feel that something is missing, Inspect and Cloud looks into the issue and see what changes can be made immediately. Inspect and Cloud is committed to being innovative, and also wants to make the property inspection process easy so property managers have time to focus on other endeavors.